Kjøpte den utvidede utgaven av To tårn-DVD-en for et par dager siden. Jeg har med andre ord ingen problemer med å fylle fritiden mens jeg venter på kinoutgaven av Atter en konge.
Lurer du på hvilken hobbit du er, kan du ta denne testen mens du venter på film tre:

Her er mitt resultat: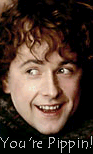 Pippin, or is it Merry??! The two are sort of interchangeable, don't you agree? "You fool of Took!" Gandalf is often heard saying to this young hobbit. Pippin's foolishness does indeed gets the fellowship into lots of hot water. Pippin may not be the brightest bauble in the box, but he at least he means well.
by